Computing
---
Participants can use their own laptops on site, but are subject to the KEK/J-PARC computer security rules.
A wireless network "eduroam" (http://www.eduroam.org/) is available in the large area of the Tsukuba campus in KEK. This network provides does not have access to KEK internal network, but access to internet. Participants can apply for an account for the duration of the school. For those who already have an eduroam account in thier home institute may connect this network without any application. For those who belongs to the participating institution of the eduroam project, one may apply for an accout in her/his home institute. This is recommended since the eduroam account is valid not only in KEK, but also for all otherparticipating institutions in the world.
Prior to network connection, all computers must run an operating system with up-to-date patches and an anti-virus software to protect virus with current virus signatures. Use of peer-to-peer software is strictly forbidden. Network activities on campus is monitored all the time. Connections may be blocked if suspicious actions are identified.
More detailed information on computer security at KEK, including how to apply for an eduroam for wireless connection will be made available to students once they are accepted.
Instructions of network connection
What you can do
Your laptop, tablet, and other mobile devices can be connected to wireless network in KEK and J-PARC during the school. The eduroam is the default Wi-Fi service, which can be accessed from most of KEK/Tsukuba campus including dormitory. There are some locations where the eduroam signal is weak or not available. In such locations, we provide alternative Wi-Fi service. For those who whish to print documents etc., a color-laser network printer (A4 size) is available at headquarter.
Details here
Accommodation
Lodging
---
Students will be housed at the dormitory in Tsukuba Campus or Tokai Campus depending on the programs.
 Tsukuba dormitory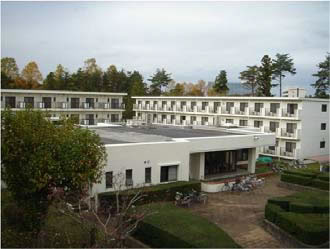 Tokai dormitory 
You will take email from User's office about your Room number in a week.
No.3** and No. 4** : A single room with bath and toilet.
<<http://uskek.kek.jp/documents/uskekpdf/dormimapNo3.pdf>>

There is landry place in a common building.(Washing machine is free)
You may buy detergent for clothes in grocery.
<<http://legacy.kek.jp/intra-e/map/annai/baiten.html>>
Bicycle: EDIT participants may borrow during school at the Registration desk.
Life Guide in Tsukuba and Tokai campus
---
Tsukuba Users office <http://usersoffice.kek.jp/eng/index.html>
 Visiter Information & Life Guide in Tsukuba
Living Information / Bank and Post Office / Bicycle Related / Medical car / Meal & Foodstuffs ...
TOKAI (J-PARC) Users office <http://is.j-parc.jp/uo/index_e.html>
Daily Life Information
Cafeteria, Grocery shop, ATM machine

Meal
---
Students will be "on their own" for meals. The KEK Cafe is open everyday and everymeal, Cafeteria is open for lunch and supper from Monday to Friday, and they only accepts cash (Japanese yen).
Grocery Store accepts cash and Visa and Master Card credit cards.

Cafe (Prime)
Business Day:
Seven days a week

 

*CLOSED on New Year holiday

(December 29 till January 3) and KEK set holidays

 
 
Business hours:
7:30 - 21:00
 
Breakfast:  7:30 -  9:30
 
Lunch:      11:30- 13:30
 
Dinner:     17:30- 21:00
 
*CLOSED: 10:00 - 11:00 for cleaning
Cafeteria
This is a self-service restaurant. Light meals and noodles are served. Please purchase a meal ticket. Ticket vendor is at the dining room entrance. 

Location :  Between the International Center and the Employee's bldg. 1F




Business hours: Monday-Friday
Lunch     11:30-13:30
            
Supper   17:30 -19:00
Cosed on National holidays, Year-end/New-year holiday period and KEK set holiday.  
Restaurant
Location: Employee's Center bldg. 1F




Business hours:Monday - Friday
12:00-14:00 (last order 13:40)



Cosed on National holidays, Year-end/New-year holiday period and KEK set holiday.  
News
*Poster session appears in schedule. *Participants list becomes available.
Event Schedule;
March 11 16:00-19:00 Registration
March 11 18:00- Reception
March 16 18:30- Poster session
March 16 19:30- Banquet
March 22 18:30- Closing ceremony
Important Dates:
---
Event dates:March 12-22, 2013
Participant selection: End of Dec, 2012
Application Deadline: Nov. 30, 2012