Mission Statement
The Excellence in Detector and Instrumentation Technologies was created to ensure researchers entering the field today get the hands-on experience they need to successfully further their careers.
Overview
---
EDIT 2013 will be hosted by KEK in Tsukuba, JAPAN. EDIT 2013 is the 3rd in a new series of international school on detector and instrumentation technologies. The EDIT school, started at CERN in Geneve, Switzerland, in 2011 (EDIT 2011) and the second is in Fermi National Accelerator Laboratory in Batavia, IL, USA in 2012 (EDIT2012).
Objective
---
EDIT is a school devoted to young researchers, in their graduate studies or in their first year as a post doc, seeking to acquire a deeper knowledge on the major aspects of detectors and instrumentation technologies.
This goal is achieved by providing a diversified program that integrates topical academic courses with hands-on laboratories.
The practice-oriented approach of the school will be particularly profitable for physicists with limited hardware experience, as they can explore the performance and limitations of the technologies which are used in state-of-the-art experiments.
Participants' understanding of technologies will be extended beyond their immediate circle to a broader view, favoring strong skills in understanding the operation of Detectors and fostering innovative ideas on R&D and data interpretation.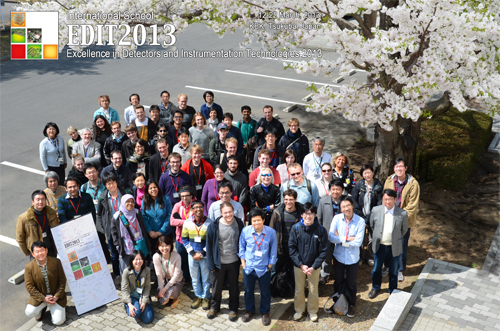 print size (3.8Mb)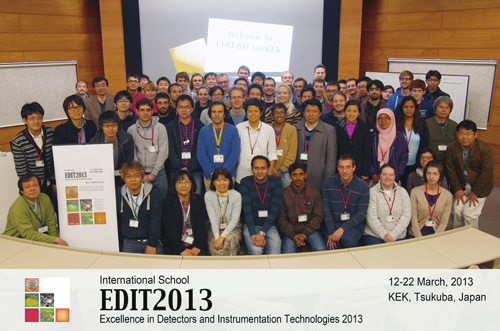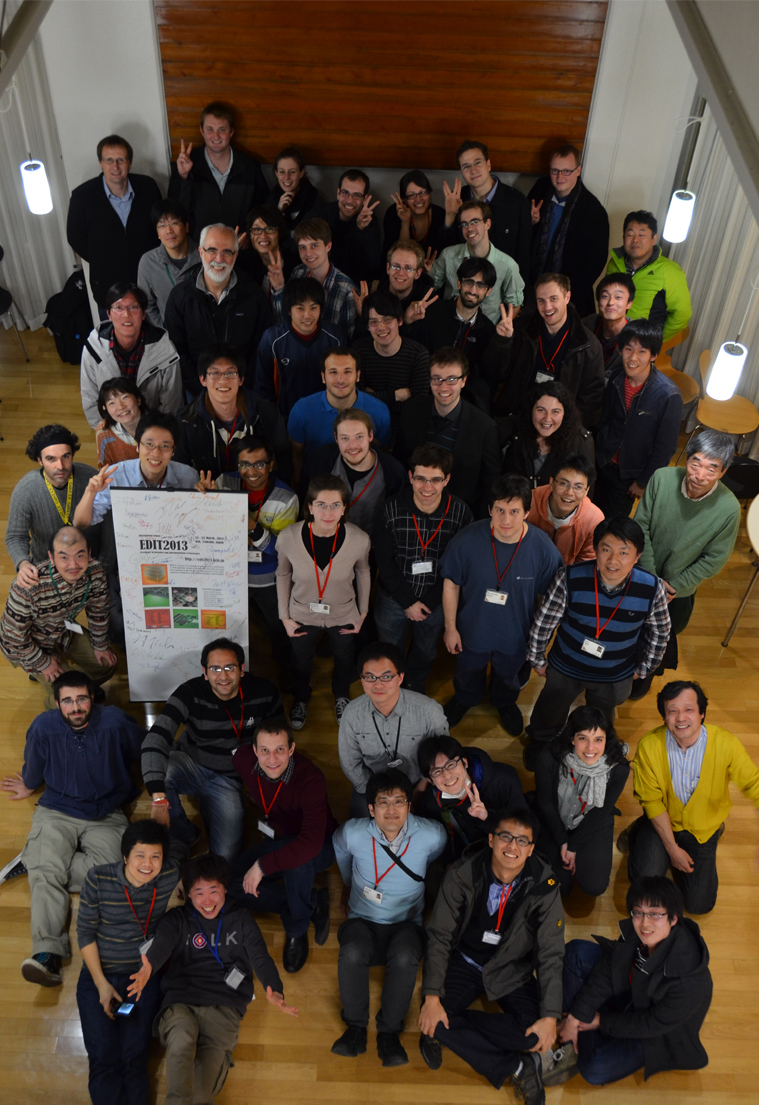 print size(3.2Mb)
Print size photo (3.2Mb)
---
Official address:
EDIT 2013 School Secretariat
KEK, Detector Project Office
1-1 Oho, Tsukuba, Ibaraki
3050801 Japan
e-mail
fax: +81 29 879 6241
---




News
The EDIT2013 school is over.
Many thanks for your cooperation.
               *
"EDIT goes to Asia for young experimenters to learn more about detectors" , Faces & Places (page 2), Aug 19, 2013
*Poster session appears in schedule. *Participants list becomes available.
Event Schedule;
March 11 16:00-19:00 Registration
March 11 18:00- Reception
March 16 18:30- Poster session
March 16 19:30- Banquet
March 22 18:30- Closing ceremony
Important Dates:
---
Event dates:March 12-22, 2013
Participant selection: End of Dec, 2012
Application Deadline: Nov. 30, 2012

Full size poster( 2.2Mb)